We may earn money or products from the companies mentioned in this post.
I've finally found a downside with off-roading.
…the cleaning process.
Exterior cleaning is relatively easy, but cleaning the interior is a whole other beast.
It's not as simple as firing up a pressure washer and getting to work (please don't try this!). You need to take a more strategic approach.
After years of off-roading experience, I've learned a lot about cleaning a Jeep Wrangler's interior.
…and I'm about to share it with you.
Not only will you learn how to clean your dash and seats, but also ways to prevent dirt and mud buildup in the first place.
Always better to stop the problem before it happens, in my opinion.
Cleaning Your Jeep Wrangler Interior: 9 Pro Tips
1. Don't Underestimate Floor Mats
If you're venturing off into the wilderness with your Jeep, mud will be transferred from your shoes onto the carpet. 
Cleaning mud from car carpets is a pain.
It requires an interior cleaning solution, a brush, and some manual labor.
…no thanks!
The best way to prevent the buildup of dirt is by using floor mats. Floor mats are made from a few different materials such as rubber, carpet – or both. 
I wouldn't recommend a carpet floor mat.
Although they prevent mud from reaching your main car carpets, cleaning can be a pain.
Instead, it's best to stick with rubber carpets. Rubber carpets are much easier to clean, and have little grooves that collect dirt.
When your rubber mat gets dirty, you can easily clean it using warm water and soap. Alternatively, you can fire up the pressure washer and get to work. 
Want to impress passengers in your Jeep?
…then you need to get an air freshener. 
This becomes even more important if you eat, drink, or smoke in your Wrangler. When you drop crumbs and spill drinks, it builds up and creates an odor.
You may not notice a bad smell.
…but others sure can. 
So which air fresheners should you go for?
Here are the most common options:
Hanging air fresheners

Vent air fresheners

Sprays

Air fresheners in a tin
Most people opt for hanging air fresheners. While great for a few days, they quickly wear out and become useless.
If you're anything like me, you want something 'longer lasting'.
That's where vent air fresheners come in.
They easily attach to an air vent in your Wrangler, giving off a nice smell as air passes through the air vent.
There is a liquid inside, which drops over time. That means you can easily see when it's time for a refill.
A clean dash makes the rest of your Jeep look cleaner.
Here's how to do it like the pros:
Mix a solution of water and soap (but not too much!).

Use a microfiber cloth to clean the main part of the dash.

Run an out toothbrush along the air vents and compartments

Go over these hard-to-reach areas with your microfiber cloth

Use a small cloth to dry everything

Apply polish using a dry cloth
Enjoy the compliments from passengers.
4. Keep Your Seats Spotless (A Quick Cleaning Guide)
Seats take up the majority of space in your Wrangler, so it's important to keep them clean.
Unfortunately, seats are wayyy more difficult to clean than your dash. 
…hence why it's important to stop them getting dirty in the first place (more on that later!).
Anyway…
Here's how to clean your Wranglers seats so they look spotless:
**This guide refers to seats that are caked with food and dirt. If you're seats are only slightly unclean, skip to step 3**
Use a brush or toothbrush to loosen the dirt

Use a vacuum cleaner to get rid of everything

Wet a small microfiber cloth

Dab some dawn dish soap on the end

Rub it on the stained areas

Leaves it for a few minutes

Use a damp microfiber towel to scrub the affected area
Sometimes, the biggest problem is not dirt.
…it's clutter.
Even if your Wrangler is spotless, it will still look dirty if it's cluttered.
But where should you put everything?
After using up your Jeep's regular storage space, it's time for some upgrades. You can install overhead storage kits in your Jeep, giving you additional space to keep important items and accessories.
Tailgate storage kits are another excellent option.
They attach to the back of your Jeep, and include multiple pockets for storage.
6. Implement A 'No Food' Rule
What's the biggest culprit of a dirty interior?
…food.
Not only do crumbs get trapped in the carpet fibers, but also hard-to-reach areas. Air vents, underneath seats, and small compartments are all on the list.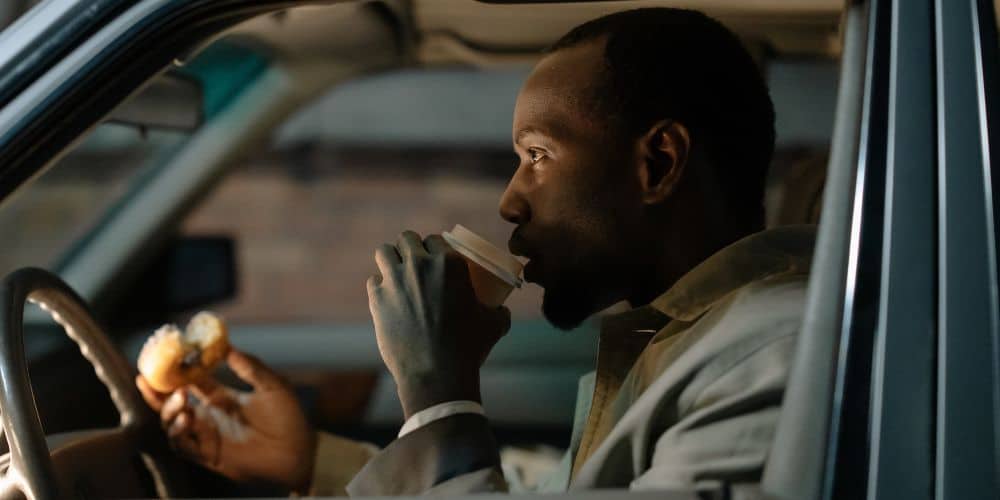 Try cleaning these areas and you're in for a difficult time.
The best way to stop this happening is by implementing a 'no-food' rule. This is relatively easy, but becomes more difficult if you have young children.
7. Seat Covers Are Your Best Friend
If you want to maintain showroom-like seats, I recommend seat covers. 
They are not the cheapest.
…but do a heck of a job!
Spilling drinks over your seats will have no effect, as they are completely covered. That's not to say you won't have to clean the seat covers, but at least the seats themselves are safe.
If you want to minimize cleaning, you can always opt for waterproof covers.
That way, you can easily clean them with a wet towel.
…and you don't have to worry about stains from spilled drinks.
In addition, they look bada**. 
Many seat covers come in different colors and patterns, allowing you to match the color scheme of your Jeep.
8. Roll Bar Covers Sure Help
Unless you're off-roading with no roof and doors, the roll bars won't get too dirty.
However, it's always nice to protect them.
…introducing roll bar covers.
They are modern, look good, and don't break the bank! Plus, they are not too difficult to clean.
Similar to seat covers, you can choose from multiple covers so they match your Wrangler. 
I created an entire guide on choosing the best roll bar covers, so be sure to check it out!
9. Keep The Damn Roof On When Mudding
If you're mudding, then it's important to keep the roof (and doors!) on.
…unless you want a Wrangler filled with mud.
By leaving the top and sides exposed, you're making it super easy for mud to get inside. And once it's inside, cleaning will be tough.
In addition, make sure the windows are closed. That way, you only have to worry about cleaning the outside windows.
If you're in hot weather, crank up the AC.
If there's one takeaway I want to leave you with, it's this:
…protect your Wrangler's interior, so you don't need to clean it all the time.
Most people have got it backwards.
They keep cleaning their Jeep's without protecting it from mud, dirt, and food at the start. Not only does this cause premature wear and tear, but it's also time consuming.
Want To Learn About The Latest Jeep Tips & Tricks?
If you enjoyed this read, then be sure to check out my other articles. I have a lot of Jeep informational content to choose from. It's time to take your Jeep knowledge to the next level, huh!?