We may earn money or products from the companies mentioned in this post.
Most of the time, buying a vehicle isn't considered an investment, but something that you sink lots of money into and that loses value over time. At least, for the vast majority of vehicles – this the case. 
You may have made a quick google search trying to find out what vehicle is worth the most bang for your buck and found that Jeeps are commonly talked about as holding their value over time. And not just for a while, but since the first Willy's Civilian Jeep was made back in 1945, Jeep vehicles have appeared to hold their value through the test of time!
I get it though, you're wondering if it really is true.
The truth is, yes, Jeeps do hold their value over time. Many times they are worth more than what the average residual value is on them.
A friend of mine sells Jeeps for a living at a Chrysler dealership and in our conversations, he shared with me some of the reasons why these vehicles hold their value!
And that's what you will learn in this article…
So, why do Jeeps hold their value over time?

There isn't a simple answer to that question, but in short, Jeeps are known to be able to handle the most difficult terrain with ease, have little to no issues, and be your vehicle for daily use!
There aren't too many vehicles that can boast those same accomplishments. At least, for for the last 75 years!
The iconic Jeep Wrangler outclasses other vehicles that attempt to compete against it with superior 4×4 systems for offroading. These vehicles are coveted by enthusiasts, as durable and highly capable in all kinds of terrain; snow, ice, mud, rock, and sand.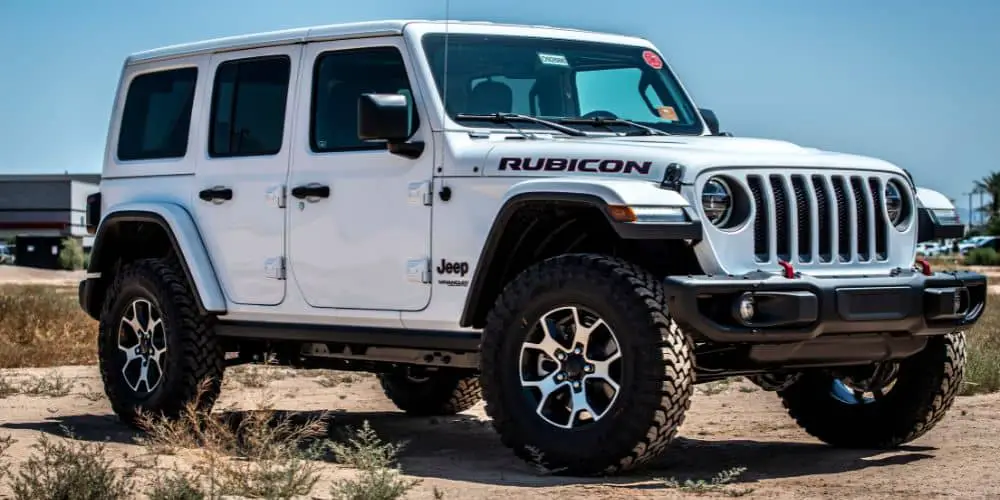 If someone is interested in doing offroading, the Jeep Wrangler is often the first vehicle that comes to mind before big lifted trucks and other competitors like the Ford Bronco come into the picture.
And now with the Jeep Gladiator gaining popularity, Jeep dominates both the truck and SUV off-road four-wheel-drive segments in the market!
Of course, not all Jeep vehicles retain the same value as the Wrangler and Gladiators, but compared to the market average they are above it in their class of vehicles! 
We take a look at what their residual values are like below.
Why Are Jeeps So Expensive?
I'm sure if you have looked at a Jeep for yourself, you have wondered why Jeeps tend to be more expensive than their competition. Part of this is because of the prestige that the Jeep name carries. 
Very capable all-terrain vehicles that are made of high-quality parts. 
Every model that Jeep puts on the market goes through rigorous testing, being run through the Rubicon Trail which is 22 miles of treacherous terrain. Once they have completed this trail, the jeep earns the 'Trail Rated badge' on the side of the vehicle!
Jeeps are also not mass-produced, keeping a high demand for them year over year. 
How Well Do All Jeep Models Hold Their Value?
The average new vehicle depreciates approximately 40-50% over the first 5 years. 
Factors that make up that average are of course different makes, models, and trim levels and the average person in America puts about 12,000 miles a year on their vehicles.
So how do Jeeps compare to the average new vehicle market? Let's take a look at each model below.
Depreciation of Each Jeep Model over 10 Years
These are the resale values for each model over 3, 5, and 10 years based on information taken from caredge.com and on new 2022 models!
| Model | New Price | 3 Years | 5 Years | 10 Years |
| --- | --- | --- | --- | --- |
| Wrangler | $31,975 | 88% | 78% | 57% |
| Cherokee | $27,995 | 79.6% | 62.9% | 43.5% |
| Compass | $26,020 | 79.3% | 71% | 39% |
| Grand Cherokee | $38,325 | 77.2% | 62% | 34.3% |
| Renegade | $26,390 | 83.1% | 68.4% | 43.5% |
| Gladiator | $35,610 | 86.7% | 77.7% | 46.9% |
| | Average % | 82.3% | 70% | 44% |
Each of these vehicles are based on the base MSRP model pricing (I know they can be much more expensive than this) and is an estimation for the Jeep Gladiators since their coming to market in 2020. 
Remember, the average market depreciation is 40-50% over 5 years. 
The average Jeep depreciation is only 30% over those same 5 years.
That is 10-20% better than your average vehicle in the market, which is a huge money saver in the long term. 
To put that into context: if you purchased that $32,000 Jeep wrangler, in 5 years it would still be worth approximately 25-26000 rather than 16-20000. That is a HUGE difference!
Right now in 2022, these values are largely skewed with a much higher demand for new and used vehicles because of the shortages across the country. The values for your Jeep vehicles will actually be greater than what these charts show because of it.
When we consider higher-end models of these vehicles the average depreciation is going to be much lower.
A Jeep Wrangler Unlimited has an average depreciation of only 10.5% over 5 years.
How Do Jeeps Compare to Other Vehicles?
Time to look at how the Jeep Wrangler (being the least depreciative vehicle from the Jeep brand) compares to the other least depreciating vehicles over 5 years.
| Rank | Vehicle Model | Average 5-Year Depreciation |
| --- | --- | --- |
| 1 | Jeep Wrangler | 9.2% |
| 2 | Jeep Wrangler Unlimited | 10.5% |
| 3 | Porsche 911 | 12.8% |
| 4 | Toyota Tacoma | 13.8% |
| 5 | Toyota Tundra | 19.5% |
| 6 | Ford Mustang | 21.0% |
| 7 | Chevrolet Corvette | 22.7% |
| 8 | Chevrolet Camaro | 23.6% |
| 9 | Dodge Challenger | 24.4% |
| 10 | Toyota 4Runner | 24.6% |
The information on this chart came from a study that iseecars.com performed to get accurate depreciation metrics.
As you can see from this chart, Jeep Wranglers hold the top 2 spots for resale value over 5 years compared to other top performers!
Jeeps Have A Loyal Following
The Jeep brand has been around for a long time and has held a leading edge in the off-roading market with superior four-wheel-drive systems that can take you to places other vehicles can't.
Owners are encouraged to test their vehicles to the limit, and make improvements, making them better for off-road use whether it's rock crawling, water-fording, mudding, or hitting up the sand dunes! These modifications are lauded by other enthusiasts and improve their value of them!
Jeep has also created a huge community of like-minded trail junkies that congregate for large events like Easter Jeep Safari in Moab, Utah. A nine-day event that has thousands of off-roaders show up every year to show off their machines and test them to the limits!
We can see that Jeeps do hold their value way better than the majority of other vehicles through the examples above by at least 10-20% (even more for the Wranglers and Gladiators). 
If you are considering an offroading vehicle or even a more capable SUV, rest assured that they will be a worthwhile investment for the future.
If you are trying to decide how to deck out your Jeep Wrangler, check out my other posts that cover a range of great products to add to your offroading machine!
Want To Learn About The Latest Jeep Tips & Tricks?
If you enjoyed this read, then be sure to check out my other articles. I have a lot of Jeep informational content to choose from. It's time to take your Jeep knowledge to the next level, huh!?