We may earn money or products from the companies mentioned in this post.
Undercoating a Jeep shouldn't be underestimated.
Get it? 
Okay, enough of my stupid jokes.
You're here to learn how much it costs to undercoat a Jeep. There are many factors involved; however, you can expect to pay between $150-1000 for an undercoating job. 
To determine an exact amount, you will need to dig a little deeper.
Are you planning to DIY?
Do you want to hire a professional?
Which type of undercoating do you plan to use?
These factors all come into the final cost. While they can sound confusing – don't worry.
I've created this article that breaks everything down, ensuring you pay a reasonable amount for your undercoating…
…while still getting a bada** finish.
Yes.
But Jeeps are sometimes undercoated at the dealership, so it may not be necessary.
…unless you're looking for a second coat.
The main benefit is rust and corrosion prevention. When off-roading, our rigs take lots of damage to the undercarriage.
Think stones, dust, dirt, and debris.
The undercarriage is also exposed to moisture in wet conditions. 
And moisture = rust.
When undercoating is applied, it creates a protective barrier, so moisture can't seep through and cause corrosion. 
…but that's not all.
It's not uncommon for road noise to reduce dramatically after undercoating. This happens because it's like creating a sound barrier between the undercarriage and the road.
Please keep in mind that undercoating is not a fix for pre-existing rust and corrosion. This will have to be repaired before undercoating can be applied, which increases the costs dramatically.
When Should You Undercoat Your Jeep?
The best time to undercoat your Jeep is the day you purchase it. 
You can speak to your dealership, and they may do it for FREE. However, it more than likely requires an add-on fee.
Here's why to undercoat your Jeep straight away:
As time passes, your Jeep may develop corrosion and rust. This means you will need to pay more expenses to repair the pre-existing damage.
…and boy it won't be cheap.
That's not to say you can't undercoat after owning your Jeep for a while…
Providing it doesn't have any corrosion.You can discover a full breakdown on whether you should undercoat your Jeep wrangler in my recent guide.
Getting A Professional To Undercoat Your Jeep: The Cost
It's not uncommon to hire a professional.
…but is it worth it?
The most common benefit of an experienced professional is quality work. Provided you go to a reputable garage, there shouldn't be any issues. 
So how much does it cost?
I've seen people get quotes from $150- 1k+. Pretty steep jump, right!?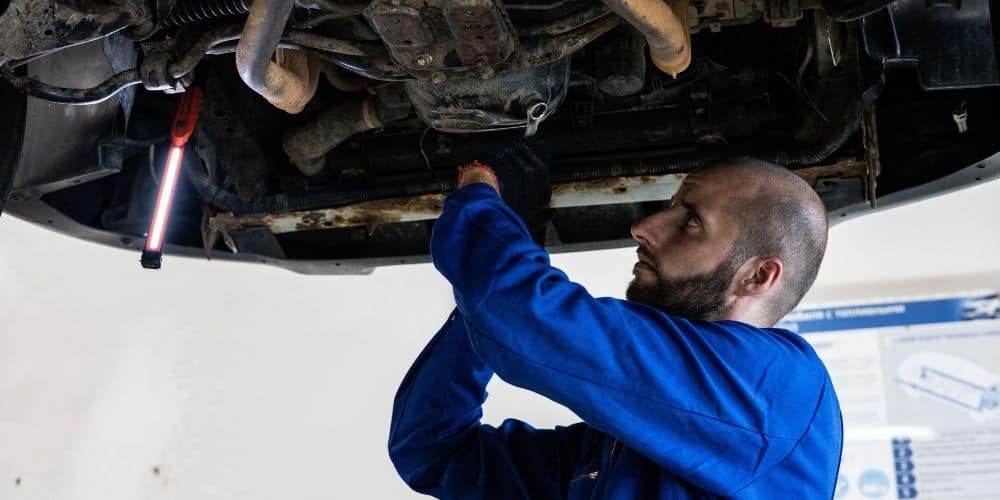 Location and Jeep size are both important factors in the price. The type of undercoating also comes into consideration. 
For example…
Asphalt undercoating may cost more money, as it's considered one of the best. The good news is that it lasts up to 1 year.
Doing It Yourself: The Cost
The other option is to take things into your own hands.
As a Jeep owner, this is the preferred option. After all, we spend most of our life modifying our rigs.
…why not apply some simple undercoating?
Undercoating is simple and should take a full day. It's important to take your time so that everything is perfect.
Unless your Jeep is fresh from the dealership, it's important to clean the undercarriage beforehand. 
Spraying undercoating on an undercarriage with dirt, corrosion, and rust is a big no-no. 
To tackle this job, I recommend a pressure washer. It's fast, efficient, and pretty fu**ing cool, in my opinion.
Once the undercarriage is clean, it's time to get to work.
Here are some tools you will need:
Jack stands (or lift!)

Wrench 

Undercoating

Sprayer
Lifting your car with jack stands will make undercoating more difficult; however, it's still a viable option. 
The wrench is used to remove the wheels, which is an important step in the process.
You probably don't need to purchase a wrench, as most Jeeps come with one.
Oh, and don't forget to choose the best Jeep undercoating for a perfect finish.
The Types Of Undercoating
There are a few different types of undercoating.
Here are the main 2…
Rubberized undercoating is the most popular.
It's effective and easy to use, making it the perfect choice for beginners. With that being said, please don't use rubberized undercoating on pre-existing rust or corrosion.
It traps the rust, rotting your Jeep from the inside out.
Wax undercoating is another popular choice in the Jeep community. While it's the oldest undercoating that exists, it also wears the fastest.
Wax undercoating is a little different from rubberized undercoating. Rather than hardening, it goes into the nooks and crannies, offering a basic level of protection.
…My advice?
Stick with rubberized undercoating.
Where To Take Your Jeep For Undercoating
If you have your heart set on taking your Jeep to a professional, make sure you get the right place. 
My first port of call is always the dealership you bought it from.
If that's not possible, I recommend heading over to Yell and searching through their directory. You will easily find a reliable auto body shop.
The good thing is you can check out the reviews.
Saves you from getting a sh*t job.
Undercoating your Jeep is an excellent idea, providing you have the budget ($150-1k)
…but then again.
You can always take the job into your own hands, saving you hundreds of dollars. That means you will only need to pay for undercoating and tools, which cost about $50.
Want To Learn About The Latest Jeep Tips & Tricks?
If you enjoyed this read, then be sure to check out my other articles. I have a lot of Jeep informational content to choose from. It's time to take your Jeep knowledge to the next level, huh!?